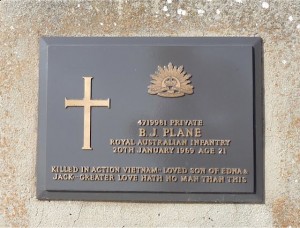 4719981  Pte Bruce James Plane
31st October, 1947 – 20th January, 1969
Grave 93 (new plan), Ardrossan Cemetery, SA
Bruce James Plane was born at Ardrossan on 31 October 1947.  His parents were Leslie Hough and Edna Irene Plane and he had brothers Robert, Leo, Geoff and Ron and sisters Dianne, Judith and Janice.
Bruce was brought at Price and attended Price School.  After leaving school he started an apprenticeship as an electrician which he couldn't manage.  He then worked as a welder fitter until his National Service call up.
Bruce's hobbies were tennis, football, fishing, spotlighting and swimming.
Bruce was called up for National Service in early 1968 and was enlisted into the Australian Army in April and was posted to the 2nd Recruit Training Battalion, Puckapunyal, Victoria for his recruit training and then to the 3rd Training Battalion, Singleton NSW for his Infantry Corps training in the middle of 1968.  On completion of his three months Corps training he was posted to the Reinforcement Holding Wing at Ingleburn, NSW.
About six weeks after his 21st Birthday he flew to South Vietnam via Singapore arriving on 16 December 1968 and was posted to the 1st Australian Reinforcement Unit (1ARU) at Nui Dat which was a neighbour to his future company; D Company, 9th Battalion, The Royal Australian Regiment (9RAR).
At 1 ARU Bruce undertook weapon and tactics training and acclimatisation for three weeks before moving to the Holding Platoon awaiting call forward to a battalion.
On 1 January 1969 9 RAR deployed to the Hat Dich area in the southern part of Bien Hoa Province to counter the enemy's build up for the 1969 Tet Offensive and D Company was soon into the thick of the fighting with a contact with the enemy on 5 January 1969 lasting for hours with some of 10 Platoon, Bruce's future platoon, being wounded.  Bruce was posted to 9 RAR in mid January 1969 and allocated to 3 Section, 10 Platoon, D Company 9 RAR and flew in by helicopter to join them on the morning of 20 January 1969 in an area known as Hill 47 or Bunker Ridge.  The specific area Bruce flew into had been the location of heavy contacts on 28 December 1968 when 7 Platoon, C Company, 1 RAR lost one man killed and on 10 January 1969 when 2 Platoon, A Company, 9 RAR lost one man killed.
Late on the afternoon of 20 January 1969 10 Platoon contacted the enemy and in the fire fight that followed Bruce was killed.