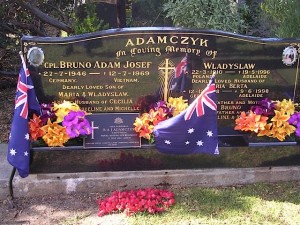 43326 Cpl Bruno Adam Josef Adamczyk
27th July, 1946 – 12th July, 1969
Official Commemoration – Wall 18, Row J,
SA Garden of Remembrance, Centennial Park, SA
Catholic E Section, 22, 389A, Centennial Park Cemetery, SA
43326 Cpl Bruno Adamczyk was born in Schwerte, Westphalia, Germany, and as a 3 year old Polish National arrived in Melbourne with his parents on the Fairsea on 23rd May, 1950.  
At the age of 22, Bruno, from Smithfield Plains, SA, and married with two young daughters, was KIA during Operation Matthew in South Vietnam. He was a member of 6 Section, 11 Platoon, D company 9 RAR.  Bruno, as section Commander, and his forward scout Pte Beresford Edwards, were killed while together attacking an occupied enemy bunker system.  Without their section commander, Bruno's section, with help from others of the platoon and at great risk to their own safety, recovered the bodies of their comrades Cpl Adamczyk and Pte Edwards.
In another conflict in another country, in another era, this selfless bravery could well have resulted in military honours.                
​