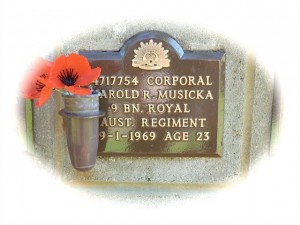 4717754  Cpl Harold Robert Musicka
3rd April, 1945 – 19th January, 1969
RSL Wall 138, Row C, Niche 5 (KT), Centennial Park Crematorium, SA
4717754 Cpl. Harry Musicka, born in Melbourne, a regular soldier aged 23 years, was killed in South Vietnam on 19th January, 1969.  Harry was already a veteran of Malaya, married to Kay and with a 23 week old daughter.
Harry was serving with Support Coy, 9 RAR on Operation Goodwood.  This took place in the Hat Dich area, 30 km n.w. of Nuit Dat.
Quoting from the book "9th Battalion RAR, Vietnam tour of Duty 1968-1969, On Active Service" when accompanying a patrol from the Anti-Tank Platoon as a mortar fire controller on 19thJanuary, 1969, Corporal Harry Musicka of the Mortar Platoon was killed.  Harry was the first loss from Support Company.