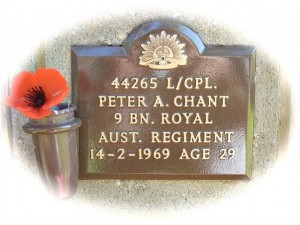 44265 LCpl Peter Chant
6th November, 1939 – 14th February, 1969
RSL Wall 138, Row C, Niche 8 (KT), Centennial Park Crematorium, SA
44265 LCpl Peter Chant was born at Rose Park, SA, in 1939 and joined the Australian Regular Army in 1967.  In early 1968, after completing recruit and corps training, Peter joined C Company 9RAR.
As a private soldier Peter Chant had far more worldly experience than his peers.  He had experienced a number of different work places, had played sport at an elite level, had experienced the joys of racing horses, and was universally admired by all who knew him.  His greater maturity, common sense and leadership ability saw Peter promoted to Lance Corporal a good deal earlier than was usual. Peter's qualities had him marked for further promotion.
Peter had a strong bond with all in C Coy but particularly with the members of 9 Platoon and more so with the soldiers of his Section.  He had a unique relationship with both Dave Blumer, his Platoon Sergeant, and Maj. Laurie Lewis his Company Commander.
Unbeknown to most, prior to the Battalion's departure for South Vietnam, Peter had become engaged to be married. He and his fiancée had made plans to be married in Singapore during Peter's R & R.
On the afternoon of 14th February, during Operation Goodwood, C Coy made contact with the enemy. The Company followed up and was engaged by Machine Gun, Rocket Propelled Grenade and AK47 fire from 2 flanks.  Fire Support in the form of a Light Fire Team, artillery and mortar fire engaged the contact area.  During this action Peter Chant, Brian Goff, Russell Hall, Kevin Geoffrey and Eric Schmidt were wounded.
Shortly after, before medical evacuation arrived, Peter died in the arms of his Platoon Sergeant, aged 29 years