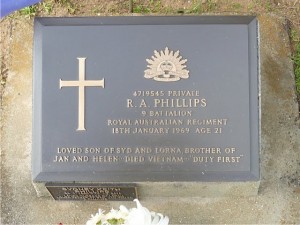 4719545  Pte Reginald Arthur Phillips
17th April, 1947 – 18th January, 1969
Grave 105, RSL Lawn Section, Murray Bridge Cemetery, SA 
4719545 Private Reginald Phillips, aged 21 years, a National Serviceman born and raised in Murray Bridge, died of wounds in South Vietnam on 18th January, 1969.
Reg's death was the result of enemy contact with 3 Platoon A Company 9 RAR during Operation Goodwood.
9 RAR, with other Australian Battalions, was heavily engaged with the enemy in the area known as Hat Dich, 30 km n.w. of Nui Dat. 
All those including Reg were on Operation Goodwood for which the 9th Battalion The Royal Australian Regiment was awarded the Battle Honour Hat Dich.
Reginald Arthur Phillips was born at Murray Bridge on 17 April 1947.  His parents were Sydney and Lorna Phillips and he had two younger sisters; Janet and Helen.
Reg was educated at Murray Bridge Infant, Primary and High Schools and afterwards attended Technical College where he excelled at welding.  He took a job with Nicolai & Fixk as a farm machinery mechanic after leaving school.
Reg had three loves in his life; his fiancee Gwenda, the dune buggy he designed and built and fishing.
Reg was called up for National Service in 1967 and was enlisted into the Australian Army in October and posted to the 2nd Recruit Training Battalion, Puckapunyal, Victoria for his recruit training and then to the 3rd Training Battalion, Singleton, NSW for his Infantry Corps training in January 1968.  In April 1968 he was posted to the newly formed 9th Battalion,The Royal Australian Regiment (9RAR) at Woodside, SA near his home town and was allocated to 8 Section 3 Platoon A Company for employment as a rifleman.
On 9 November 1968 Reg embarked with 9 RAR from Outer Harbor on the converted aircraft carrier HMAS Sydney and arrived in South Vietnam on 20 November 1968.  He was with his section during their operational training and then on Operation King Hit from mid-December until Christmas Eve.
On 1 January 1969 9 RAR deployed to the Hat Dich area in the southern part of Bien Hoa Province to counter the enemy's build up for the 1969 Tet Offensive.  On 10 January 1969 Reg's section moved forward whilst in contact with the enemy and evacuated the fatally wound Private Tom Meredith.
During the afternoon of 18 January 1969 3 Platoon contacted a group of enemy and in the following fire fight Reg was fatally wounded and died later that evening in the 1st Australian Field Hospital, Vung Tau despite the efforts of surgeon Lieutenant Colonel Brian Cornish.  Also wounded in the contact were Reg's Acting Section 2IC Private Geoff (Tubby) Shaw (wounded while evacuating Reg) and Private John Brewer.